A West Ham fans' guide to Brussels for Anderlecht clash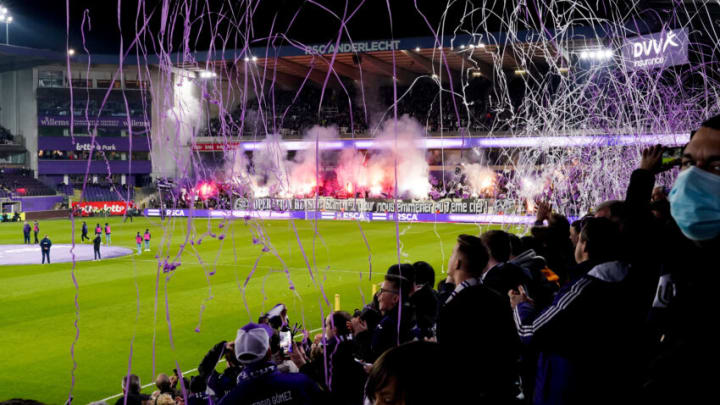 BRUSSEL, BELGIUM - MARCH 3: sfeeraction from the fans/supporters of RSC Anderlecht during the Croky Cup Semi Final match between RSC Anderlecht and KAS Eupen at Lotto Park on March 3, 2022 in Brussel, Belgium (Photo by Joris Verwijst/BSR Agency/Getty Images) /
West Ham fans may be interested to know that the club has a connection with Anderlecht.
The late François Van Der Elst made over 240 appearances for Anderlecht, later signing for the New York Cosmos and West Ham. Midfielders Cheikhou Kouyaté also has ties to both clubs, having joined the East London side from Anderlecht in 2014. Josh Cullen recently played for both clubs too.
Anderlecht is a part of the Brussels-Capital Region and is around 14 miles from Brussels. The area can be accessed through public transport, making it easy to get to and from. However, most Hammers will choose to explore Brussels prior to Thursday's game.
QUICK FACTS – BELGIUM
Population 11,496,000
Language French/Dutch
Name in Official Language Belgique/België
Dialling Code +32
Currency Euro/€
West Ham travel to Anderlecht looking to continue their winning Conference League run /
WHERE IS BRUSSELS?
Brussels (French: Bruxelles) is in the central part of the country. It consists of the Flemish and French part of the Belgian community, and both languages are widely spoken throughout the city. Moreover, a large percentage of the population can speak English.
Tourists like to visit Belgium due to its cuisine and variety of food. Brussels is a considered Belgium's cuisine hotspot; it has a variety of chocolatiers, breweries, delicatessens and local restaurants. It is also the headquarters of the federal government and the King of Belgium' administration, as well as many others UNESCO sites.
WHAT CAN I DO THERE?
Galeries Royales Saint-Hubert
This unique shopping mall is within walking distance of Brussels' central train station. Built in 1847, it attracts around 6,000,000 visitors every year. You can explore the different cafes, restaurants, boutiques and confectionery shops. The building's interior sometimes lights up at night, usually to commemorate national holidays.
Grand Place (Groote Markt)
Grand Place is, well, very grand. It is the most-visited attraction in the city and has been a key location in Brussels since the tenth century. The area is 110 x 68 metres (360 x 223 feet), and it is covered with a carpet of flowers every second August. This area is known for having a vibrant nightlife due to its bars and restaurants, and it hosts large New Year celebrations.
Atomium
The Atomium looks like the molecular structure of a chemical element, but it has a more interesting meaning to this attraction. Despite being named "the world's most bizarre building" by CNN in 2013, Belgians find the Atomium to be a national symbol of science. It has nine spheres, and you can see the city skyline from high above.
WHAT IS THE STADIUM LIKE?
Lotto Park
West Ham supporters will be heading to Lotto Park is one of Belgium's oldest football stadiums. It opened to the public in 1917 and was renovated in 1983 in order to increase the stadium capacity.
The stadium underwent mandatory restoration work in 2012 to fit with UEFA standards. The capacity was decreased, but this allowed more hospitality sections and a press office to be built. Today, it has 651 outdoor VIP seats and safe standing for fans. The stadium will be all-seated for the Europa Conference League tie this Thursday due to security and safety measures.
How To Get There
Two metro stations serve the stadium; both are on Line 5 of the Brussels Metro and terminate at Hermann-Debroux station. Saint-Guidon/Sint Guido Station is a short walk from Lotto Park, but it is advised that away fans use the Aumale Station. This station is a 16-minute walk from the stadium.
KNOW BEFORE YOU GO
Know The Name Of The Main Station
The main train station in Brussels is called Brussels-South in English, "Bruxelles-Midi" in French and "Brussel Zuid" in Dutch. Tourists are thrown off by these names and assume that they are three separate stations. The Eurostar departs from Brussels-South, NOT Brussels-Central.
Don't Make Loud Noises
It is illegal to play loud music after 11 P.M. A complaint could result in you being fined or arrested.
Don't Always Tip
Tipping is welcomed at Belgian restaurants, but it is not mandatory. It is considered polite to tip more than €2 after your meal. If you do not wish to tip, that is fine, as most servers in Belgium make a good salary.