Three First Half "Bests" for West Ham United
The season is quickly at its halfway point and West Ham are poised to continue their hunt for European Football. From a stellar starting stretch to confident regularity, here are three "bests" thus far for the Hammers.
The three sections for this breakdown are as follows: the best goal of the season, the most improved player, and the Hammer of the Year (so far). All sections will have a runner up listed, too!
Goal of the Season
We have to start with the most obvious answer of the three sections listed. Look no further for the best goal of the season for West Ham and the Premier League than Manuel Lanzini's top corner laserbeam rocket shot in extra time to complete the comeback against hated rivals Tottenham Hotspur.
The match came at a pivotal time for the Hammers in the young season. After beating Wolves 4-0, losing out in lopsided fashion to Everton in the EFL Cup, and then coming back to beat Leicester 3-0, there was some uncertainty about what team would show up for this London Derby.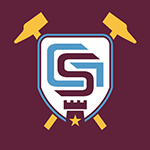 Want your voice heard? Join the Green Street Hammers team!
Write for us!
West Ham was on the verge of taking the next step or continuing to fall short; Manuel Lanzini ensured they progressed forward.
The team was set up in a wingback formation eliminating the central attacking midfield role that Lanzini would occupy if starting, but the extra defensive coverage didn't matter. Quick offensive bursts saw Spurs take a two-goal lead in eight minutes with Harry Kane and Heung-min Son each scoring.
Eight minutes later, Spurs would add another goal from Kane to make it three nothing. Spurs didn't coast out the match either, with Jose Mourinho bringing on Harry Winks, Lucus Moura, and Gareth Bale to get goals of their own.
The unlikely comeback started from the Hammers' unwillingness to say die. A well-earned freekick saw a Cresswell delivery that met Fabian Balbuena's head, 3-1. Vladimir Coufal's great press down the right side and a flooded box of West Ham players, Davinson Sanchez heads it into his own goal, 3-2…
It was set up perfectly. The comeback was on from the 82nd minute onward and in stoppage time the unthinkable happened. Subbed on in the 77th minute, Lanzini would get his chance. A short delivery from Cresswell would get half-cleared by Winks. Robert Snodgrass would pressure and Angelo Ogbonna would block winks off allowing Lanzini to let loose and shatter Spurs hearts everywhere.
The perfectly placed shot saw its ways through a mess of players and went crossbar and down past a helpless Hugo Lloris. The comeback was sealed in stoppage time, after a Gareth Bale miss no less, and West Ham would take their point and celebrate.
Runner up:
Ironically, the runner-up to goal of the season so far comes from a player who isn't on the team anymore. Divisive striker Sebastien Haller's overhead kick against Crystal Palace. Following in Andy Carroll's footsteps, Haller lashed a cross from Coufal into the back of the net in acrobatic and dramatic fashion. He may be gone, but his goal will live on!