Michail Antonio's crazy end to the season for West Ham backed up by stats
Michail Antonio was in fine form after the Premier League restart, firing West Ham to safety. But stats show it wasn't a fluke for the powerful forward.
After drawing with Newcastle and losing to Burnley, there was a genuine fear amongst West Ham fans that we'd hit poor form at just the wrong time. Norwich and Watford were up next, and so the fate of our season could swing on these two games. But 5 goals from Michail Antonio in those key games all but ensured our survival.
Before the restart Antonio had managed two Premier League goals and two Assists (all stats today are from understat) in 13 games, so scoring 8 more in the 9 games after the restart might seem like it was all a bit of a fluke. But despite the massive change, stats suggest that he had been underperforming the rest of the season, and returned to expectation for the run-in.
So if you are thinking how could we possibly measure this, welcome to the world of 'Expected' Goals and Assists, or xG and xA. Statisticians pour over data from the top level of football all over the world and from that can estimate how likely a shot is to lead to a goal given a number of variables:
Body part used (head, right foot, left foot etc)
Proximity to defenders
Goalkeeper position
Ball under control/first time/volley
Other things that are too smart for me
When a player scores a lot of goals in a short space of time, usually their goals exceed their xG. Maybe they're just hitting a purple patch of form and finding the corner every time, or keepers make mistakes and it means shots that were less likely to go in end up in the back of the net. Over the course of multiple seasons, you are unlikely to outperform these xG stats unless you are a top player such as Sergio Aguero, Robert Lewandowski or Mo Salah.
For Antonio's last 9 games of the season, in which he scored 8, his xG was 7.77. So he was getting himself in positions and taking shots that mean if he had scored less than 8, he would have been underperforming his expectation! Imagine if one of his four against Norwich had been saved/hit the post, and we would have been able to say that Antonio, with 7 goals in 9 games, wasn't hitting his expectations. But if you think about some of the chances he missed, he could have outperformed by a greater amount as well.
So, does this mean we can expect Antonio to be running against top names in competition for the golden boot next season? Unlikely. But not impossible. Antonio's finishing, even in that great run in, can leave a lot to be desired as his technique isn't overly robust. He was getting in great positions to finish off chances in the run-in, and that is the key to maintaining his scoring rate because he isn't going to crack in 5 or 6 goals a season from outside the area. If his effort level stays high and David Moyes continues with his focus on the dynamic attack at West Ham, we'll see the decent output from the former Forest man.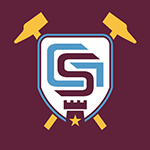 Want your voice heard? Join the Green Street Hammers team!
Write for us!
In fact, comparing his output other mobile strikers/wingers like Antony Martial shows he can really perform at a high level with some respect to consistency. Take a look at the picture in the tweet below.
Whilst comparing players isn't always perfect, especially given the average quality difference between Manchester United's players and ours, it paints a pretty impressive picture for Antonio. You can see that although the actual goals per 90 minutes are pretty much equal, Antonio is getting shots off from positions where he is more likely to score (higher xG per 90) whilst at the same time creating better chances for his teammates according to xA.
So if I'm David Moyes, I'm getting Antonio in to do extra shooting practice all through the offseason, because a little quality in those areas could transform Antonio into a top Premier League striker. Antonio is already fantastic in the air, strong enough to fend off most defenders and has the pace to burn when getting in behind. If he can sort his finishing in one on one situations then it wouldn't be too strange to be seeing 20 goals from him during the campaign. Something West Ham have been crying out for for years.
Is Antonio going to step up and be the leading man for West Ham in seasons to come? Or is all of this xG nonsense over-inflating something that should be viewed as a small purple patch? Let us know on social media or in the comments below!