West Ham: Felipe Anderson gives high honors to three current teammates
The West Ham United attacker recently was featured in an upbeat interview. During that time he names his all-time teammate's XI. Three Hammers made the list.
The interview that Felipe Anderson took part in was conducted by 90 min. In the interview he looks fit and extremely ready and happy to get back with his teammates and football. The West Ham left-side attacker hasn't always fallen on good times in East London, but he had some refreshing words for his Hammer faithful (quote below).
His football career has seen him play alongside some remarkable athletes. From his time with the Brazilian National Team, Lazio, and now West Ham, he has come in contact with some former and current legends of the game. So, as you would imagine, his list for all-time teammates was fairly stacked with talent or and off the pitch.
Out of his starting XI of teammates, Anderson did name three West Ham players. Two South American brethren, Pablo Zabaleta and Manuel Lanzini, and the hopeful future of West Ham, Decan Rice. Some may question the likes of Zaba and Lanzini on the list but in truth, they surely had some major influences on him when he moved to London.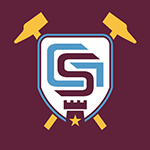 Want your voice heard? Join the Green Street Hammers team!
Write for us!
West Ham: Felipe Anderson gives high honors to three current teammates
"Hello West Ham fans. I miss you, to see you filling the stadium, but we still have to stay home" he added. "I hope, as soon as I have the opportunity to play, to do my best to you, for you and for our West Ham. A big hug, be with God."
Since arriving in East London, Anderson has added some South American flair alongside Zabaleta and Lanzini and in turn shares with them the woefulness that can come at times in the Premier League. The three of them have certainly had downtimes with the Hammers and together have tried to regroup, in some way, and get back to normality.
The was no surprise in seeing Declan Rice's name on Felipe's list as the youngster has found his way into everyone's hearts since coming on the West Ham scene a few years ago. In addition to the three Hammers on the list, he also picked his countryman Neymar and former teammate Miroslav Klose.
What's next for West Ham and the Premier League, no one knows but it is good to see these types of stories pop up. It's not often that you get a true insight into what's going on inside a club. It's even more fascinating when you see who the players best bond with and have relationships with. So, for now, and until we meet again, COME ON YOU IRONS!