Over Land and Sea: An International West Ham Supporter's Away Day Experience
There are a few things I absolutely love about being a West Ham supporter in Canada, most notably, the look on the face of those who follow soccer when they ask what club I support.
I know they're expecting me to talk about my undying love for Manchester United, City, Chelsea or Liverpool. The pride I feel when I tell them about the Mighty Irons and the responses that usually range from "But why?" to the knowing smile of the random Norwich City and Stoke City supporters I've crossed paths with here in Ottawa.
I love the excitement of waking up on a Saturday morning, a cup of tea and a fry up as I wait for Ex or the club to announce the line-up for the day so I can text my mate to debate, or leave the house to meet him down at the pub. If I'm at home, my wife and son have become accustomed to me standing in the living room a few feet from the tv with a pint in hand (my wife used to think West Ham was an excuse to have an early morning ale, but I think she's beginning to understand the necessity of it when watching West Ham).
Down at the pub, we are usually surrounded by the Liverpool and City fan clubs as they celebrate blasting in a fourth or fifth goal while West Ham finds another way to drop points from a winning position.
Every once in awhile those Saturday mornings are brilliant, and we beat United or Chelsea and all seems right with the world. But much of the time, those 10 am kickoffs end with a shake of the head and a few words shared between my mate and I as we agree to discuss later in the week what really went wrong during that fixture once we've had time to think objectively about life as a West Ham supporter. Most of the time, a text is sent later that day or week with a laugh about the joys of supporting our banter club.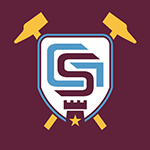 Want your voice heard? Join the Green Street Hammers team!
Write for us!
My absolute favourite part of supporting West Ham are the away days. For international supporters like myself, so much excitement and organization goes into planning an away day, and yet up until two months beforehand so much can go wrong due to the Premier League changing fixtures for television.
There's nothing quite like repeatedly checking the schedule for that weekend and trying to figure out potential television matchups before booking your flight so that as much West Ham as possible can be fit in.
My very first match was against David Moyes and Sunderland in October 2016. My aforementioned mate, born into a West Ham family, and I were on tour in England but unfortunately the day before the match there were issues with the West Ham ticket office, and we weren't able to purchase tickets even though it hadn't been sold out yet.
Waking up that morning, instead of heading to the pub, I decided to go on the UK's version of StubHub and surprise my mate with tickets. I paid far too much to watch Sunderland at the London Stadium, but I couldn't imagine spending my first Saturday in the UK not attending "the football".
Like West Ham, things never quite go to plan. We were supposed to meet the lad selling the tickets in person, but he couldn't figure out how to get through to my Canadian phone number, and the company wouldn't provide me with his. The match was closely approaching while I was getting a tour of Green Street, and luckily the barmaid at the Queens recognized we were in trouble and asked about our predicament.
Hearing the story she quickly gave us the pub phone number, and before we could finish our pints we were connected and on our way to Stratford. Looking back, stories like this are a constant of being an international West Ham supporter. Reid scored the winner in extra time by the way. Four days later I was at the first London derby at the new ground, as Kouyate and Fernandes led West Ham to a victory over Chelsea.
The atmosphere was electric, and the team did their part as well. A few years later I was over in the UK with my dad and arranged to travel to the Leicester away match late in the 2018 season through Ironworks Tours and we had a proper day out. Adding to the day was Noble's worldy, asking the board to "Sign him up, sign him up Ginger Pele" and clinching Premier League survival.
I was fortunate enough this year to have made plans before the season to organize a trip around the end of February. When the schedule came out and the chance to check Anfield off our bucket list was available, my mate and I both jumped at it. When the match was moved to a Monday night we couldn't believe our luck: Anfield under the lights.
We kept our eyes out on twitter for tickets and got our hands on a pair from a fella that couldn't make it due to family commitments. The West Ham family loves to take care of their own and he wanted nothing more than to set up a couple of Canadians, especially with the state the club was in at the time (that trip we planned after beating Manchester United in September wasn't quite as positive as it had been).
He hadn't told us the seats were going to be in the first row, and now we were officially buzzing even though there was that lingering feeling of hoping the boys would give the Scousers a match.
I had a positive feeling throughout the day, especially after hearing a barman discuss how it would be a disappointing result if they didn't keep a clean sheet. I had read a book recently about Brian Clough's Nottingham Forest making a visit in the 1978 European Cup, and him famously telling his squad "There is a sign out there that says 'This is Anfield', now let's show them that we aren't that bothered." I wanted to feel that way in a few hours and a few bets were made at the Betfred before heading over to Anfield, although I'm sad to say that Issa Diop to score wasn't one of them.
I won't bore everyone with the details of the match, but I will say that after a day and a half spent in Liverpool it was relieving to finally run into the Cockney accents in the famous Arkles Pub. On the bus over, we watched a man learning the lyrics to "You'll Never Walk Alone" on his phone. And once in the ground, we sang all about the poor men trying to carry Fat Frank as well as our pal Ludek from near Moscow with a few pints down below before kickoff.
We let the board know via black balloons and some songs that maybe their time is near the end. Watching Liverpool's goal go in at the 9-minute mark made me concerned that we were in for a long evening, but I should've known better and we asked where Anfield's famous atmosphere was many times that night. A couple of young boys came to ask if they could stand with us in the front row for the last 10 minutes and of course, we obliged and after the final whistle, Michail Antonio came over and gave them his jersey. Legend.
Most importantly, we watched the squad put on a performance that made me excited for the following Saturday against Southampton in East London. Afterwards, we chose to make the walk all the way back to the city centre to avoid seeing the Liverpudlians, but mostly to blow off steam about one that got away. We hadn't yet seen the replay of Bowen's late match attempt and realized how close we were to absolute limbs.
We had a few days in London to wind down before the Southampton match but by Friday we were buzzing again. That night we stopped at the Black Bull in Stratford to meet up with Scott Davis (@DenverWestHam) and Eugene (@Eugene_gaughan). It was nice to have a few beers with a fellow North American Hammer while Eugene told many tales of his double life working in the City while going on crazy away days back in the '80s. Even though we were in East London, I'm always startled (and comforted) to be in a pub that's proper West Ham compared to my Canadian locals.
That evening we headed to Dagenham for Hammer's Heroes Pie and Mash night with Ludek Miklosko, Phil Parkes, Ray Stewart, Marlon Harewood and Tony Gale hosting (the man is an absolute stitch up, would've paid just to hear his stories). The night was put on by Mandeville Promotions, and I would recommend it to any Hammers as the player engagement was incredible. At the end of the night, I had a brief chance to talk to Tony Gale and he was adamant to "keep the faith."
The next morning, we made our way over to the West Ham Way pre-match event in Leytonstone to have a few more hours with Ludek as well as ExWHUEmployee and Dave Walker. Ludek may have thought we were stalking him (we were) but was happy to talk about Jaromir Jagr and Canadian treasure Craig Forrest with us.
Dave and Ex always talk about how the pre-match is often the highlight of their day, but I had a great feeling about that afternoon. That being said, the pre-match event was fantastic and it was nice to connect with the West Ham Way lads after countless hours listening to their podcast. I felt the squad had really turned a corner against Liverpool and was fully expecting a result especially when Ex told us before the lineups were officially submitted that Jarrod Bowen was starting.
We got to the ground early to give our support to Super Fab in warm-ups after possibly the worst night of his professional career. The atmosphere was reminiscent of the Chelsea League Cup match in 2016 and the performance lived up to it.
While the result was great, as I mentioned before supporting West Ham is ultimately about the people. Every trip over I've been fortunate to interact with a different facet of the West Ham community and I can't say enough good things about the different events, away day trips and people I've met. I'd recommend any of them to international supporters travelling over land and sea. Football, and West Ham, is about so much more than just the match.
Finally, I'd love to hear about everyone's personal match day routine both at home and what makes it special when heading to the London Stadium or an away day. COYI